You got your current job off LinkedIn, didn't you? Well, so did I. This is how it works now; you have to create an account so you can have exposure and get hired. Frankly, the whole concept of the service this websites offers is one of the best ideas anyone has ever had in the history of human beings.
LinkedIn is a very creative and essential tool to start careers or upgrade them. This idea has served millions, including graduates, students, and even high positions workers. LinkedIn is available for everyone for free, which seems illegal because that is how good this is, but it isn't.
Everyone has got to start from somewhere someday, now all we have to do is download an app and apply online through the account we created. That is all it takes to start. The whole concept of LinkedIn is outstanding and very creative. It seems like a social media app, but it isn't one, it is only meant to connect people and get them out of unemployment into the best jobs in their career life.
These past couple of years have been the slowest on the economy, as Covid-19 hit all of us pretty hard. It has drastically changed the whole concept of workplaces and work life and transformed it into a brand-new era of virtual working. LinkedIn quickly adjusted to those changes to help people who got terminated from their jobs find new better ones, only by a few simple but life-changing updates and new features.
Working online has established a certain routine of boredom in our lives, but at the same time, it has changed everything in our days and made it more comfortable. Everything transferred to online working and learning. All students had to adjust to the changes and so did workers. However, many have found better online jobs than the ones they had!
LinkedIn helping millions get hired:
Many of us have lost perspective in these challenging times. Whether it is a new role you really want or some perspective on your career, LinkedIn is here to help you through every step of your way into building a better and fresher future. Career planning takes people their whole life. We go to school dreaming of what we could do that matches our preferences, abilities, and skills.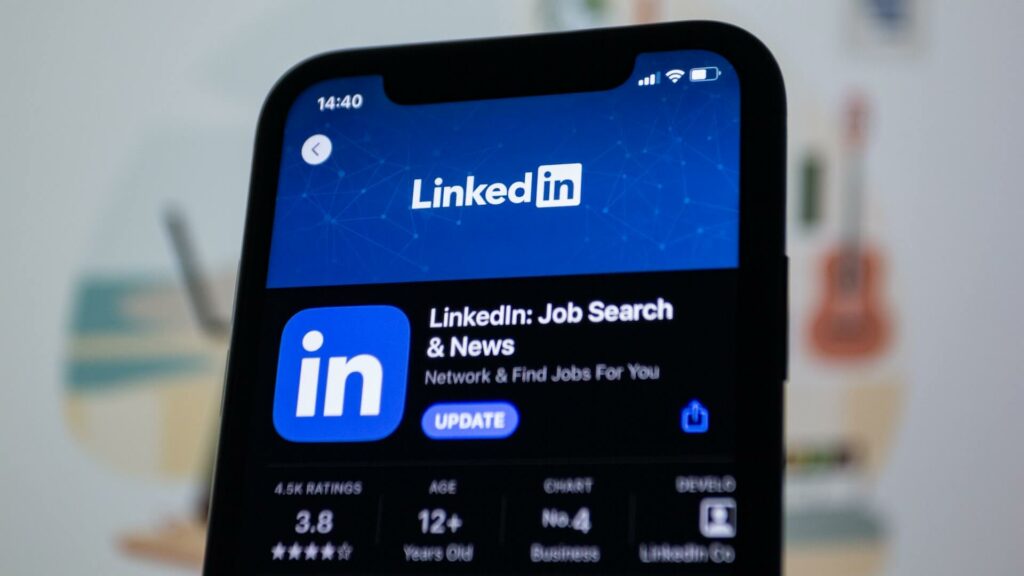 Until we get old enough and eventually educated to apply for jobs related to our fields. Some of us are born with the opportunity, wealth, or privilege to score a good job and build a career out of talents or special skills. The rest are relying on finding the best opportunity and role to either boost or just start out their career. It is very hard and difficult, but it all comes true through this app in the easiest ways possible.
The company is built and based on finding people the best possible options and positions to work in. But how does it work for beginners? Simply create an account, the first step is done just like that. The account-making process in LinkedIn is a huge part of the method that will help you get hired.
In LinkedIn you list your skills, your education lists, and certificates, you link your resume or CV, cover letter, and finally your current position or past ones. When you're done with that, you would've made your part in leaping into your new upgraded future in the working world.
Now the basic idea in LinkedIn is that you search for announcements that companies post on the same platform. The most important thing to do is to link with others. Linking means connecting, connecting, and socializing on this platform creates exposure. Which results in hiring companies viewing your account. By viewing your profile, they learn about your skills and abilities and all the different info and data you made public to others. That's when the job offers come, are you ready?
Now, this whole process of applying for jobs is very easy with LinkedIn. But the one issue is that everything now is online. Due to the current conditions of the work and study life and process being all virtual and online, the platform has jammed into new ideas and updates to help everyone make working from home much easier and not as horrible as it sounds.
Numbers reveal that due to the conditions of the virus Covid-19 spreading, the economy took a big hit and left 140 million people out of work. 1.6 billion dollars is the number expected to be the loss of income for families. Terrible and sad statistics and situation, but LinkedIn came to the rescue!
How is this company going to help people from all over the world get jobs? Sounds like magic but it is not, the answer is simple, numbers! Currently, there are over 14 million open job opportunities posted, and increasing by the minute, still doubtful. 40 million people are applying on the platform every week, and three people are hired by the minute.
These are just some of the very impressive numbers and statistics that the platform has right now. The numbers increase not only on a daily basis but by minutes also. They have used their tools to help all unemployed individuals reclaim their power and get back to climbing the ladder of their careers up to the very top.
There are a few ways and certain methods that they helped people with getting hired. For example, LinkedIn initiated the conversation of changing career paths, there is no shame in realizing that your life calling is different than what you do. You might be an engineer that is really good at teaching, just become a teacher! Everything is possible and easier to change and transform nowadays and that is due to the blessing of technology.
A new tool specifically designed to offer help finding a new career is the Career Explorer. A wonderful technology that collects the data and info that you enter and helps you explore all the different jobs and careers you could have or lead in your next fresh start.
Comes with this tool another one that could be perfectly paired, and it is the LinkedIn Learning tool. You can access multiple online courses and learning videos on all the subjects you want and prefer to study about. Want a career change? Explore the field then get ready to be educated all in the same place!
LinkedIn supporting working from home:
We have certainly got used to applying to jobs with the word "remote" in the description. Maybe after all it is not as worse as we imagined. It has a lot of different advantages that elevates the whole concept of working. For starters, if all jobs are operated by the working-from-home method, then the location issues are over!
Have you ever wanted a job really bad that you had to change your whole life and home and move to another city to "Relocate"? Well, that is not a problem anymore since a lot of companies and jobs are relying on virtual working which means you can stay at the place you love with everyone you know close to you and also have your dream job through LinkedIn!
Disruption in the global economic status caused by the virus has left many people out of work and led them to unemployment. Online working has brought the economy back to life by transferring traditional work methods into high tech-infused methods that can be done more efficiently and way faster. It truly benefits everyone in the world to work through their laptop.
LinkedIn is just like many platforms that promoted this new revolutionizing method of working and studying online, only they did it way better. Due to the advantage of the company that is their concept and nature of getting people hired and connecting workers with companies, they had the highest rate of success at these times.
First, they gave full and free access to skills-learning and multiple training programs for jobs and getting hired. Which encouraged a lot of users to apply and sharpen their skills and talents through these amazing and highly accessible services. Besides learning and training, it has pushed a lot of people to also apply more to jobs, therefore higher chances of getting hired and reaching goals and career peaks.
Another thing LinkedIn have added is a feature in the job description for job searching, which specifies remote jobs which are done at home without the tire of commuting and office work. Instead, just search for remote jobs in anywhere in the globe or your country and get hired!
Thanks to the easy apply feature on the app, understanding jobs and positions have never been easier. This feature will autofill your information and upload it all to the job application for you to apply to other jobs easily and quickly as well. Which created better job searching time as well as better navigating processes and ways. It also allows your chosen company to review your application much faster, resulting in a higher hiring percentage.
All of these new updates are easy and work as efficiently as possible, but wait, there is more! Due to the new work conditions that disallow us from being in an actual room and working with other people in real life, they came up with a way to make it even easier to work online!
LinkedIn has announced its successful collaboration with multiple networks and apps that are specializing in video calls. Zoom and Microsoft Teams are two of the most famous video call apps that have blown up in the virtual working and online studying area. This collaboration of the greats allows many people to network, which is a huge part of working.
Networking opens up doors and opportunities to build huge advantages and benefits by doing it. Since it has been difficult to socialize and network, with a human in real life at work, offices, or campuses, this new feature helps make that possible even online.
How does it work? Simply, instead of texting someone on the app for the job, you can transfer the messaging and networking process into a video call app and face-to-face interaction would start working from there! Isn't it amazingly easy?
With a few simple clicks, you add video conversations and calls into private chats and messaging boards on the app to transform your socializing and online networking skills to the next level and get better and much higher chances of getting the job. All of that is just by adding video meeting links!
This feature was wanted by 60% of users who highly demanded it to be added. You can use it for a lot of different purposes, connecting with your coworkers and colleagues or meeting potential employers.
As well as connecting with people in positions of requiting and hiring for future positions and workers. Use video meetings and online calls to catch up over coffee while you are working from the comfort of your home. You can share advice or tips or even train beginners at your job in just a few quick clicks and simple steps.
Working from home has been the situation for many of us nowadays. For companies like LinkedIn to creatively make it easier, quicker, and more efficient is a very helpful thing. Moreover, for many of us who are still unemployed, it is so hard to apply for a job, but right now in these situations as hard as it seems, it has never been easier.
Using all these features you can apply to multiple jobs within minutes, find recently posted jobs and filter out positions to your preference and relevancy. Using technology to help us get back on our feet is truly an amazing and promising thing, and it will all get better from here!
Now that you know how LinkedIn is applying new features to help your career elevate while also supporting working from home with updates and resources, tell us what do you think.
To Read: Cryptocurrency, Web Application, Web Development, Mobile App, Google Street View, Digital Agency, WooCommerce, Digital Marketing, Visual Identity, Artificial Intelligence, Google AdWords, Logo Design, Google Ads, Chatbot, Motion Design, Mobile Development, Leaflet, Big Data, Internet, Google, Graphic Design, Data Analytics, WordPress, Ecommerce, Web Design, Google Adsense, SEO, Blog, Instagram, Youtube, Facebook